The Photographic Society of India issues a Newsletter called "Click", this magazine is a monthly magazine which contains information about photography.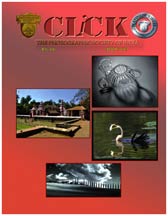 Editorial writeup – Latest news
Events & Exhibitions news
Schedule for Friday programs
Outings & Workshops
Featured Articles on Photography
Latest Competitions and
Announcement of the winners of Monthly and various Salon are printed and circulated.
For further information view or download the .pdf file.
*To view the .pdf file you need Adobe Reader.
Your feedback is important to us. Help us improve our services
Do mail in your responses at:
info@photographicsocietyofindia.com OR
psi1937@yahoo.com
- (Direct to Hon Secretary)